What Equipment Do You Need to Play Golf?
So this is the year that you decide to join 24 million other Americans and take a swing at golf.
Golf requires more equipment to play than just about any other sport and the sheer volume of golf gear choices can be intimidating. Here we will simplify the beginner's task and focus on exactly what equipment is needed for golf.
Golf Clubs
Typically the game is played with about 14 golf clubs, which are often bought in sets. As a beginner golfer, you won't need all those clubs. Starter sets are available with just a handful of irons, metal woods, a hybrid, and a putter. You can also buy these truncated sets with a bag such as the Tour X Xpress 12-Piece Complete Set. The Tour X Xpress features eight men's clubs and a putter, and you can also get starter sets for women and juniors. Additionally, golf clubs are designed for specific genders.
You can also build your first set with individual golf clubs. Not being able to get the ball airborne is one of the reasons cited for frustration among beginning players, so look for clubs that make it easy to hit the ball into the air. Hybrids and lofted irons are good clubs to accomplish this task with your early swings. You can add clubs that are harder to play with – such as drivers and long irons – as your game develops.
Golf Balls
There is no such thing as a generic "starter" golf ball. You will find a wide array of characteristics and price points when shopping for golf balls. As a beginner, focus on the most golf balls you can buy for your money. The Wilson Ultra 500 Distance Golf Balls, Precept Power Drive Golf Balls, and Taylor Made Noodle Easy Distance Golf Balls are all excellent, inexpensive golf balls.
On your early rounds on the golf course, you will lose a lot of golf balls until your game improves so you want to keep your ball expenditures affordable.
Golf Tees
Before the tee was invented, golfers used piles of sand to tee off. While this got the job done, it was certainly not ideal and much more difficult to use. Today, golf tees are a must-have in the golfer's arsenal and will be used at every hole.
Pros only play with white wooden golf tees and they cost only pennies when you buy them by the bag. But why not start your golf career with style? Play with tees in your signature color or, better yet, get yourself a supply of personalized golf tees.
Golf Shoes
You can't play golf in street shoes (golf courses don't permit it as they may damage the grounds) but you can play in running shoes. But if you are interested in investing in a pair of golf shoes, we highly recommend it.
Golf shoes have evolved in recent years to emphasize comfort and performance on the green so that new and old players can play their best game. However, for new golfers, finding a golf shoe that is comfortable (and course-legal) should be your primary concern.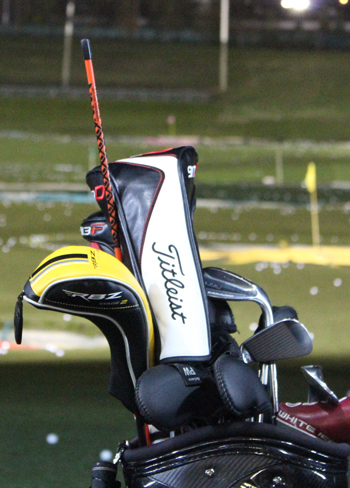 Golf Gloves
Most golfers wear a golf glove on the top hand of their grip. Golf gloves help you secure a firmer grip on the club, but as a beginner, they are also important in protecting your skin from developing blisters.
Headcovers
We know what you're thinking: Are headcovers really that important? While they are not an absolute necessity for beginners, they are great to have. Headcovers not only protect your golf clubs from the banging of other clubs, but they give you an opportunity to express your personality on the golf course.
Golf Accessories
You will notice your golf bag comes with plenty of pockets. What goes in them? There are a few golf accessories you can use to be prepared out on the course. These items include:
Divot repair tools that help you fix damage to greens from incoming golf balls
Ball markers to use on the putting green when your ball interferes with your playing partner's shot
Sunscreen to protect your skin from four hours in the sunshine
Begin Your Golf Game the Right Way
There you have it – throw your clubs, balls, and tees into a golf bag and you are set to play a round of golf on any course in the world! And as your game develops, you'll find where additional golf gear could come in handy to take your game to the next level. But until then, happy putting!