The History of Golf and The Military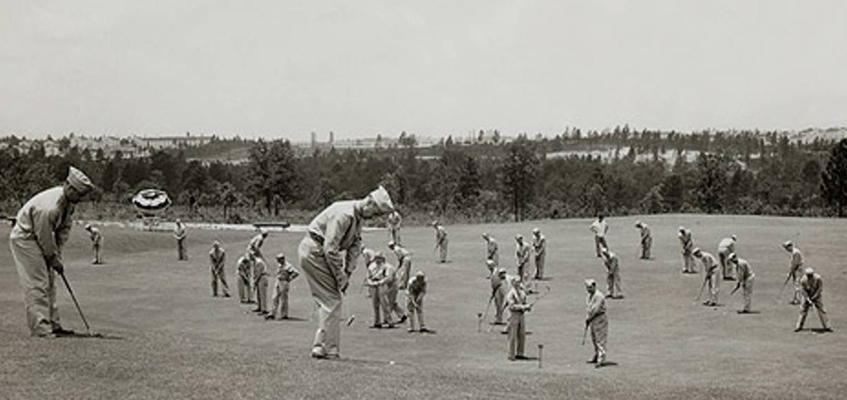 The pairing of golf and the military goes all the way back to 1457 when King James of Scotland was so concerned that his soldiers were skipping archery practice for rounds of golf that he banned the game from the country. The relationship between the military and the sport of golf is a much friendlier one these days – as evidenced by the fact that the United States Armed Forces operates over 125 golf courses currently. In fact, the military is actually one of the five biggest golf course management businesses in the country. The game of golf is seen as a valuable recreational activity for uniformed personnel who encounter regular stress and endure long deployments. The government includes golf into its budget as a means for bolstering morale, welfare, and recreation. Since 2011, military golf courses in the United States must be self-supporting by law. Many are open to the public, and research by the National Golf Foundation indicates that one out of every five golfers has teed it up at a military course at least once.
Top Golfers From the Military
Golf has been the go-to leisure sport for veterans for centuries. However, some veteran players honed their skills well enough to turn professional when their military commitments were over. Arnold Palmer won weekend tournaments while serving three years in the Coast Guard. Lee Trevino hit untold thousands of golf balls during his four-year turn in the Marines before going on to win 29 PGA tournaments and six majors. Trevino won the 1968 United States Open and the following year Orville Moody, who had surrendered his 14-year Army career only a year earlier, won the championship. Career infantry officer Earl Woods did not begin playing golf until the age of 42, in his last year of service. When his son Eldrick was old enough to play golf at about the age of three, he began playing at the Seal Beach Navy Golf Course in Cypress, California. Young Eldrick shot a 48 that year when he was just three years old and his scores have come down ever since.
U.S. Military Logo Gear
Golfballs.com provides officially licensed logo golf gear for all five branches of the military. Show your support of the nation's defensive forces with top brand golf balls emblazoned with logos from the Air Force, Army, Coast Guard, the Marine Corps or Navy. Choose from a dozen personalized golf balls or a sleek six-pack. Blank logo golf balls make a smart addition to any work desk or shelf. You will also find a range of golf accessories to announce your support of your favorite military branch. These include solid metal ball markers, classic metal divot tools with a logo magnetic ball marker, and handy hat clips with a holder for a magnetic ball marker.