Which Color Golf Balls are Easiest to See?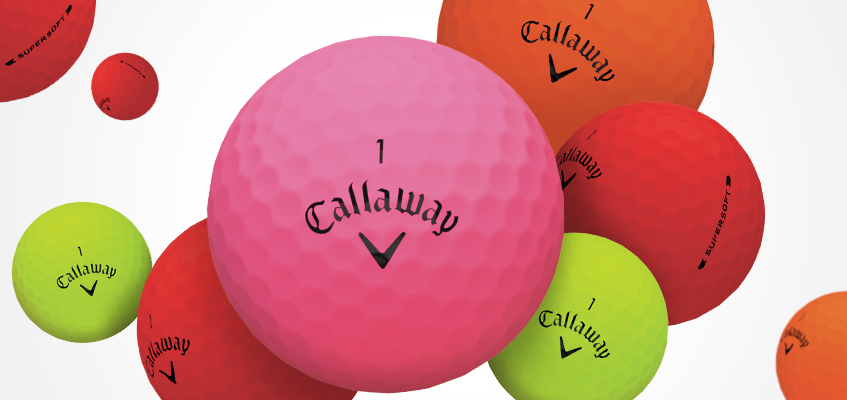 There is no better sight on the course than your ball, soaring high over a water hazard and land triumphantly on the other side. When that happens, don't you want to be able to see it all the way? Let's take a look at the best high-visibility golf balls on the market.
The First Colorful Golf Balls
Colored golf balls first made a widespread appearance in the market in the 1970s. There were two primary colors: high-optic yellow and high-optic orange. These colors are scientifically proven to be the easiest colors for human eyes to see (this is why they are used for safety vests and construction site gear). Similarly, in tennis, white balls almost immediately went extinct; green/yellow balls have been used exclusively for almost 50 years on the court.
But what color golf ball is easiest to find on the green? According to tests of visual acuity, players can follow a colored golf ball in flight almost 50 percent better than a white golf ball in the air on 200-yard drives. However, things get a bit more complicated on the ground, as the human brain interprets patterns differently when objects of one color are displayed against a background.
Even so, test results skew towards the easier visibility of green and yellow golf balls over white. Yellow golf balls are the most popular alternate color for golf ball manufacturers. Titleist, Callaway, Bridgestone, Srixon and others all offer multiple lines of yellow golf balls.
High-optic orange golf balls do not have the enduring popularity of yellow in the marketplace. One of the concerns seems to be that orange golf balls cannot be found as quickly in leaves and other debris found on the course. Red and blue golf balls also do not stand out visually when hit off the fairway.
Is It Time to Switch from White To A Colored Ball?
There is no question that it is easier for golfers to see their shots in flight with colored golf balls. Yet white golf balls continue to dominate the market. The only difference between high-visibility golf balls and white golf balls is the color of their cover; the manufacturing processes, composition, and performance are exactly the same. Even the same popular urethane cover is the same.
Is it possible that a high-visibility colored golf ball can improve your scores? Does a different color truly make a difference? Player's improvement is often tied to the mental aspect of the game and if you have more confidence that you will find errant shots with colored golf balls, you may be more inclined to "grip it and rip it" and not steer your drives.
Maybe injecting some fun into the game with colored golf balls instead of ordinary white golf balls will unleash less inhibited swings and better shots. Golfers should always explore ways to make the game fun and colored balls are a great way to do that and find the right golf ball.
3 Golf Balls That Are High-Quality & Easy to Find
If you're looking for some suggestions for your next colored golf ball purchase, you've come to the right place. Below you will find some of the more dynamic players in the colored golf ball space:
Volvik Vivid
Volvik offers high-performance golf balls in more than a dozen colors, including matte finishes. Bubba Watson played a PGA season under contract using a Volvik pink golf ball. Watson didn't win any tournaments, but the golf ball was not singled out as the culprit.
Chromax
Chromax metallic golf balls come in every color. Chromax balls feature a bright, reflective coating that adds unique style to your game without sacrificing performance.
Callaway
Callaway aggressively markets its Chrome Soft and SuperSoft lines to regular golfers with a variety of colored high-visibility golf balls, while providing that trademarked soft feel. Callaway is also a leader in patterned golf balls.
Finding The Right Colored Golf Ball for You
Colored golf balls come in various hues and finishes and can be found across almost all of the top brands in golf. Whether you go for tried and true yellow balls or dabble in different shades, Golfballs.com has the hue you're looking for to add to your golf equipment. Find your ideal shade today to not only make your ball easier to find, but to add a little whimsy to your game. See what the best ball is that works for you on the golf course.