What Golf Clubs Do The Pros Use?
If you've ever walked down the line the driving range of a PGA Tour event, then you've likely heard the powerful sound of golf balls being hit by professional players. Their strong and succinct hits are far from the average golfers'. What many don't realize is that, for the most part, the pros are using the same golf equipment available to average players. While their golf clubs may be slightly altered by their sponsored brand, the golf clubs are the same golf clubs that an average weekend golfer would use. If you're wondering what your favorite golf clubs the pros are using, join Golfballs.com as we describe the drivers, wedges, and putters that are used to make up complete golf club sets used by some of the greats.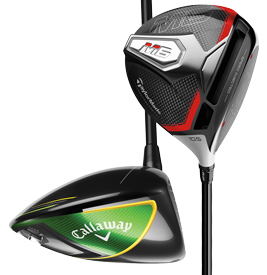 To a touring professional, no club is more important than
golf drivers.
A pro golfer must be able to hit drives a long way and have the confidence to put it in the fairway when it counts. Picking the best driver is very much a personal decision, and this type of club should be picked based on an individual's playing style. If you pick the right driver, it could take your golf game to the next level.
TaylorMade found its way into the winner's circle the most times. specifically the TaylorMade M5. The M5 boasts a revolutionary face curvature with a corrective face angle to help with off-center hits, while also packing enough power for bombers like Dustin Johnson and Rory McIlroy. Tiger Woods used the TaylorMade M5 to win the 2019 Masters. In fact, previous TaylorMade models – the M2, M3, and M4 – were all used to win a PGA tournament in 2018 and 2019.
The Callaway Epic Flash Driver and the Epic Rogue drivers were used multiple times to win events on the PGA Tour. These clubs feature Callaway's proprietary Jailbreak technology with sliding weights to help professional golfers – and you – shape tee shots and easily find your center of gravity.
Other drivers from less familiar brands also found their way into the hands of PGA Tour winners. Justin Rose wielded a Honma Tour World TW747 460 in victory. The Honma's Non-Rotating System is a great option which enables micro-adjustments of the lie angle, loft angle, and clubface angle without removing or rotating the shaft. The Srixon Z 785 is another lesser-known driver that proved its metal in PGA Competitions. Its lightweight carbon crown enhances forgiveness and a new Ti51AF Cup Face boosts ball speed for longer distance, as well as distance control. A Srixon club will complete any golf club set.
Wedges
Most touring pros use irons that they are contractually obligated to play. However, when it comes to the scoring clubs, professional golfers get more particular. Wedges and fairway woods are also a popular choice. The wedge is a necessity in any golf club set.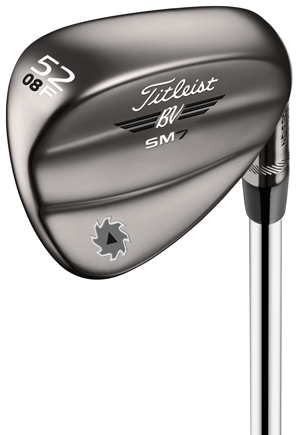 Titlest
The most popular wedge used on the green is the Titleist Vokey SM7 Wedge. Its design comes from comes from master club-maker Bob Vokey and is available in every two degrees of loft from 48 to 62 degrees. Pros use a variety of grinds and groove depths in their pitching wedge so they can put pitch shots exactly where they need. This model comes in 6 popular grinds, each labeled with a single letter: F, D, K, M, S, L. The D, K, and F grinds feature a high bounce for more forgiveness on delicate shots. The M and S grinds deliver more standard performance. The L grind is for more exacting spins and really finding that sweet spot. For those who may not have such demanding requirements, you can still order the standard Vokey SM7 Wedge in four different finishes.
Putters
Pro golfers will try any new putter that they think will help them sink more putts. That's why pro-grade putters span across various golf brands.
Taylormade Putters
The TaylorMade Spider Tour Red Sightline Putters were the hottest on tour last year, with five victories. The top sightline works to improve accuracy and a soft polymer insert in the face promotes forward roll. The Spider Red comes in four configurations: Center Shaft, Small Slant, Double Bend, and "L" Neck.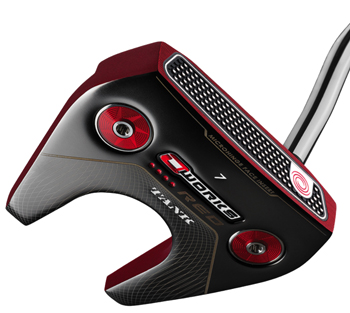 Odyssey Putters
The Odyssey Golf O-Works Red Tank #7 Putter has also been claiming victories on Tour. It features the popular red finish and Microhinge technology that provides incredible gains in topspin and roll at impact regardless of your stroke. For traditionalists, the Scotty Cameron Newport continues to rack up PGA wins. Its classic profile has been augmented by 4-way balance in the sole to ensure a perfectly square alignment at address.
Playing Like A Pro Golfer
Finding the right club for your game is great for helping with consistency and accuracy on the green. However, at the end of the day, a club is only as good as the player behind them. So if you're looking to play like a pro on the golf course, find a decent club, some quality golf equipment and get onto the fairway. The more time you spend playing, the better you'll get, and the more you'll understand what you need out of a club.