Free Golf Tournament Flyer Templates
When planning a tournament, it's no surprise that advertising for your event is key. A common and affordable way to achieve this is by creating and distributing marketing materials before the event. To help with this initiative, we've created a free and customizable golf tournament flyer template that you can use for your event.
Golf Tournament Flyer Types
Hosting a golf tournament is a great way to accomplish a variety of goals. Whether your goal is to raise money for a charity or organize a company team building event, hosting a golf tournament is great way to do it. To make your life easier, we've created four different templates that are ready for your golfing event - no matter what type you are organizing.
---
General Golf Tournament Flyer Template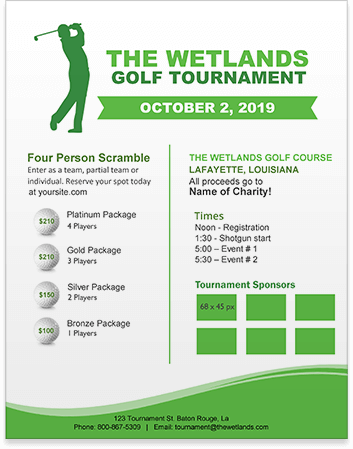 Our general flyer contains a basic flyer outline to allow for total customization.
An example of a completed general flyer.
---
Corporate Team Building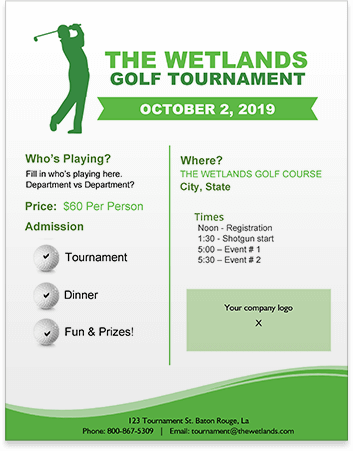 This version of our golf tournament flyer includes a space for company name and logo.
---
Competitive Sports Event
This version of our golf tournament flyer includes price of admission, company name and logo.
---
Tournament Flyer Template Details
After downloading our golf tournament flyer template, you will notice several different areas needing to be filled out. In order to make this template as easy-to-use as possible, here are the sections with a bit more information:
Sign-Up Instructions: Send interested players to your website or email by listing sign-up information
Team Packages: List donation amount each team will donate based on number of team members
Event Information: Include course name, address, date, time of event, charity name, etc.
Tournament Sponsors: Include company logos of each of your biggest sponsors on the flyer
If our flyer template does not include everything your tournament needs, have no fear! This is why most sections are completely customizable. To use, simply download our flyer template and edit the details to include whatever information you need for your tournament.
Additional Template Offerings
By using our golf tournament templates, you're able to maintain an organized and professional feel throughout your planning process. For more help, take a look at the other tournament templates we offer:
With assistance from our downloadable templates and Golf Tournament Planning Guide you will be on the course in no time!